BAFTA '15 Style - Easy Peasy How To!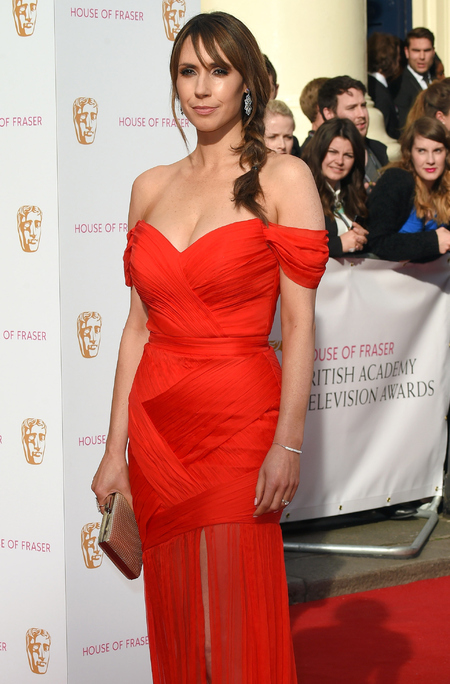 Alex Jones
 Pulling her hair to one side, Alex's hair was plaited from just behind her ear.  By pulling the 'elbows' to loosen the plait and leaving a section of hair to fall on the opposite side framed Alex's face beautifully.
When you try this look at home, spray before and after plaiting with 12 Wonderspray to hold hair exactly where you need it.
Lucy Mecklenburgh
Lucy went for the classic ballerina bun.  Smoothing back from her face, her hair was taken into a ponytail and then twisted into a neat bun.  It was secured with pins and grips to keep it in place all night. 
 When you try this look at home, spray 12 Wonderspray through your hair before smoothing back.  Remember to smooth around your hairline to avoid any frizz or flyaways.
Brooke Vincent
 Brooke went for a simple pony tail, a great choice with her classic black dress.   The ponytail was finished by wrapping a small section of hair around the base to cover and disguise the band.
When you try this look at home, remember to spray with Bedazzled Anti-Humidity Shine Spray to eliminate frizz and add a gorgeous shine.
Jessica Raine
Jessica's short hair looks amazing smoothed back  from a bang on trend side parting.  The key thing to remember when going for this look is to avoid frizz and flyways.  By using Straight Talking Straightening Cream before blow drying, and Get it Straight Protection Spray with your straighteners, your hair will stay smoother and sleeker for longer. 
Charlotte Spencer
Charlotte has amazing coloured hair and it looked gorgeous when left to fall across one shoulder.  Spray the hair with Work it Girl Shine Protect and Control Spray before wrapping spirally around the barrel of a Magic Wand.  Once the hair was waved, one side was pulled back and secured with 2 crossed over hair grips.  Waves fell loosely over the grips to cover them and the hair was finished with a spritz of Bedazzled Anti-Humidity Shine Spray.  
Georgina Campbell
The neckline on Georgina's dress was beautiful so didn't want to cover it with hair.  By rolling her hair around to one side and plaiting, the effect was young and complimented her look.
 Lydia Bright
To give Lydia the gorgeous body and bounce, her hair was waved using a Rock Chick Wave Wand.  By clipping each wave in place after unwinding from the wand and allowing it to cool means they last longer with much more bounce.   Once the waves had cooled, a drop of MiracOILicous Argan Oil worked through them to define, enhance and separate.  Pulling the hair around to one side from a side parting added a touch of Hollywood glamour
Heida Reed
Heida has gorgeous thick hair and wanted soft, dishevelled waves.   The Wicked waver was the perfect choice as no two curls are ever the same!  Vary the size of the section you take, and only wrap from eye level down to frame the face and soften the waves.
When all of the hair is waved, rub some Flirty Fix Texturizing Polish through your palms and then gently rub sections of hair to separate and add a gorgeous texture
Rosie Fortescue
Plaiting Rosies hair from a side parting – one plait around the back of her hair and the other across her front hairline, her hair was gathered into a side pony tail.
The plaits add a real edge to her style and are still soft and feminine to go with her gorgeous dress.
Why not try this look at home – if you need extra volume spray through with Quick Fix Dry Shampoo to boost thickness and make hair easier to handle
Dawn O Porter
To get that gorgeous volume in her hair, Heated Rock Rollers were used.  Rollers are a great way of adding volume, but don't always mean waves or curls.  By using extra large rollers keeps the hair smooth and sleek with a gorgeous shine.
Jess Woodley
Jess looked gorgeous with her hair loosely waved and left to fall over her shoulders.   When you want super loose waves, remember to take large sections of hair and use a Rock Chick Wave wand to create the loose texture.  Only wrap from eye level down to frame the face – if you need to smooth the root area, just rub a section of hair over your wand before wrapping.   
The latest from the Hair Hub